'Tha Carter V' and 'Drip Harder' Release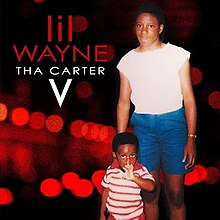 After its delay, famed rapper Lil Wayne has finally dropped an album that has been highly anticipated for about 6 years on September 28. Following in the sequence of 'Tha Carter' albums, 'Tha Carter V' has been no surprise to fans on the success. 'Tha Carter V' has already topped the Billboard Top 200 at No.1 after just one week.
Furthermore, Wayne is the first artist to debut two songs in the Hot 100's top 5 which are "Mona Lisa" featuring Kendrick Lamar and "Don't Cry" featuring XXXTentacion. Lil Wayne is also the second artist to ever have four songs in the Hot 100 top 10 in a week. Wayne has 22 of the 23 songs from 'Tha Carter V' on the Hot 100. He joins Drake as the only ones to have 22 tracks to chart on the Hot 100 simultaneously all according to Billboard.
'Tha Carter V' has become a global sensation.
On top of Lil Wayne releasing his album, rappers Gunna and Lil Baby dropped an album as well. The two rookies released 'Drip Harder' on October 6 and it was also eagerly awaited for.
After the two released the single "Drip Too Hard" which peaked at 25 on the Hot 100, fans were ready for 'Drip Harder'. This collaborative album has already gained loads of popularity which is impressive for the young rappers. Some of the better songs are "I Am" and "Never Recover".
'Drip Harder' topped at No.3 on the Billboard Top 200 Albums chart and landed 8 tracks from the album onto the Billboard Hot 100.
Prior to the release of this album, both rappers had a popular album of their own. Gunna's album, 'Drip Season 3', made it to No.55 on the Top 200 Albums Chart. Lil Baby's album, 'Harder Than Ever', peaked at No.3 on the same chart.
'Drip Harder' has made a name for the two young rappers and put them on the radar.
Both 'Tha Carter V' and' Drip Harder' are on track to be a contender for album of the year.
*All songs are explicit*