Tiger Woods Wins for the First Time In Five Years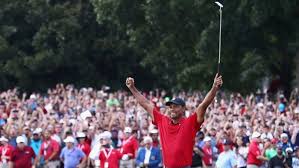 Golf legend Tiger Woods won the Tour Championship on Sunday, his 80th career PGA victory. Woods finished -11 and earned $1,620,000 for his victory. He is making headlines because it is his first win since 2013.
In recent years, Woods has undergone various surgeries and many have claimed that he had already seen his last win on tour. But in August, Woods finished runner-up in the PGA Championship, his highest finish in a major since 2009.
2018 has been Tiger's most successful year in a long, long time. With 14 majors already under his belt, Woods trails just Jack Nicklaus for the most major wins of all time, but he has struggled greatly in majors since 2010 and it had seemed as if he would never get a 15th major. But with his recent surge in good play, there is still a chance that we see Tiger walk away with another major.