Mrs. Paisley, an Energetic Educator Inspires The Lives of Many Students.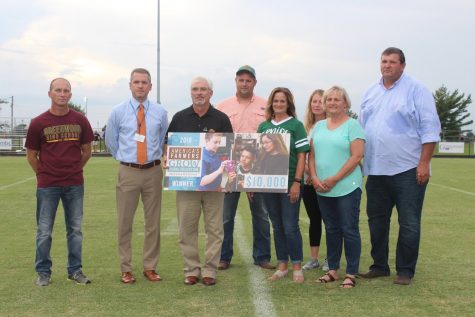 Mrs. Paisley, a teacher here at Greenwood who teaches biology, chemistry, Pre-AP chemistry, AP chemistry, and a 121 chemistry class at Western Kentucky University. She has been teaching for 20 years and this year will be her second year teaching at WKU.
Mrs. Paisley is known for her sarcastic sense of humor and fun personality. She always comes into her classroom every morning energized and ready to teach. She says this is mostly because of her love for teaching and her students. This makes for an exciting classroom environment.  While she is a great teacher who likes to challenge her students, she also likes to make learning fun in her classroom to help her students learn and to help herself teach effectively.
She says that it's really important to be energetic as much as you can so the class will be energetic as well. Having a positive attitude helps improve the students' grades because the students tend to be more focused and are more involved in the class. According to her, her classes have been going smoothly this year. They're all on track, and have kept up with where they are supposed to be in the year.
Mrs. Paisley majored in chemistry at Georgetown University and worked as a chemist for three years. She said that her boss at the time was the one who encouraged her to go back and get her teaching certificate at WKU because she was doing a lot of teaching at the factory she worked in.
"I ended up liking the classroom more than I liked the factory."
She says that teaching is a challenge every day and explains that there are students who don't care about their education or don't have the best home life and are trying to fight through. As a teacher it can sometimes be difficult to find a way to motivate them and help them pick up their grade.
However, Mrs. Paisley has also experienced dangerous happenings at other schools. This is to be expected due to all the chemicals involved with the class. For example, when she was student teaching at another school, a student didn't have her hair up. She then leaned over causing her hair to go into the active burner and light her hair on fire. Mrs. Paisley had to get a towel resembling a fire blanket and had to grab the section of her hair that was on fire in order to put the fire out.
Once, there was also a lady observing Mrs. Paisley's class who had told her about a student who she went to high school with around 40 years ago. The girl developed cancer from an accident involving chemicals. Acid splashed into the student's eyes and blinded her in one eye. When she got older they found cancer cells in that eye causing her to pass away 15 years later.
This is why safety is so important to Mrs. Paisley in her class. When asked if anything like this has ever happened in her class she replied with, "We really hammer down on safety and precautions and we haven't had those issues at Greenwood High School. We really watch students very carefully and have a lot of safety measures in place."
Mrs. Paisley really enjoys her job and plans to keep teaching for many years. She will continue bringing positivity into her classroom and making a difference in many students' lives. Mrs. Paisley is an inspiration for all she has accomplished and is a source of motivation to all of her students.