Injured Aaron Rodgers brings the Pack Back!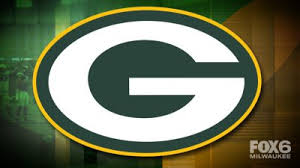 A Injured Aaron Rodgers brings back the Victory for the Green bay Packers!
The Green Bay Packers were playing against the Chicago Bears and they were losing in the first 3 quarters. The score was 20-3 and Aaron Rodgers wasn't in for one half and didn't come in until the 3rd quarter. In the 3rd quarter all the Packers got was a field goal.
Every Green Bay Packers fan was worrying about him because he got carted off and everyone thought that he was done for but he wasn't and came back into the game. The injury that the Packers doctors says its a sprained knee but he was still able to comeback for his team.
In the 3rd and 4th quarter Aaron's defense was saving him by guarding really good and making sure he's protected. Aaron's knee still wasn't feeling the best but they needed him. In the 3rd quarter he was lobbing passes to Geronimo Allison and nobody could stop him from catching and running with the ball. Davante Adams was at the 20 yard line to the 23 yard line. He also dives for a touchdown to make the score 20-17. The Packers were doing their best to not let them gain any yards and get the ball back and that is exactly what they did.  Bears get a field goal which makes the score 23-17. Bears almost had the game with a interception but dropped it.
Just over nine minutes of game action and halftime was all that was needed to make the quiet Lambeau Field erupt into cheers. In the matter of nine minutes the Legendary Aaron Rodgers came in clutch getting 20 points in the 4th quarter in nine minutes. Aaron Rodgers had to get down 75 yards of the field in two minutes.
Aaron Rodgers only needed 26 seconds. On 3rd-and-10, Rodgers found Randall Cobb in the middle of the field and the receiver raced up the field untouched, outrunning Khalil Mack. Rodgers drifted out of the pocket to his left, and Cobb cut away from Bears safety Eddie Jackson. It was a relatively easy pitch-and-catch and Cobb was home free.Randall Cobb got the ball and nobody could stop him, he was getting defended while running and breaking every-ones ankles.
Aaron Rodgers threw 3 touchdowns to make amazing 20 point comeback to win the game for his team The Green Bay Packers. Aaron Rodgers will be able to play against the Vikings for the second week of football.