Eminem Drops Surprise Album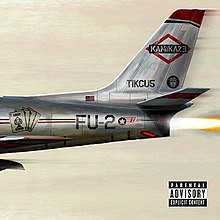 Eminem fans woke up to quite the news this morning. Eminem dropped a 13 track album, "Kamikaze," tweeting "I tried not to overthink this 1".
After a string of poorly received albums, Eminem is still attempting to regain his throne in the rap game. His most recent album, "Revival," became known as one the worst albums of 2017. The Detroit legend responds to critics on his new album, and takes shots at literally everyone, ranging from Tyler the Creator to Lil Pump. It is fair to say Eminem has plenty to say about current mainstream hip-hop.
The album cover closely mimics the Beastie Boys "Licensed to III",  a known influence to Eminem. It is the rappers tenth studio album.