Shwe Win Takes On the Responsibilities of Becoming FFA President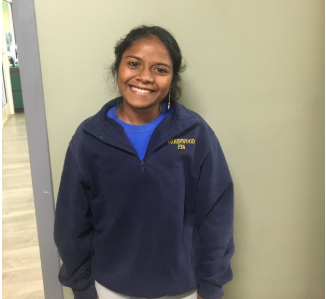 Shwe Win is a senior at Greenwood and is truly a student to be reckoned with! Win has always loved Greenwood and has loved the idea of being able to come to such a great school.
Win says that her favorite things about Greenwood are the "teachers, clubs and organizations. I have to say we have one of the best  and variety of stuff here at Greenwood!"
She loves the new updates of the school such as the new lunch tables, "They look really nice." She even goes as far to say that she loves everything about Greenwood. She is involved with many extracurricular activities like clubs. A few would consist of National Honors Society (NHS), Student Ambassador, Student Council, President of FFA, is an officer for the International Club, and the list goes on and on.
She was elected President for FFA and said "I was so not expecting to be the President of FFA and it made me so excited when they announced my name!" Shwe is also the Regional Officer.
In her opinion, the best part of Student Council is planning pep rallies because "I love it when everyone is saying 'Oh my gosh that was soooo cool, why don't we just do it again!' "  She continued saying, "That makes me so proud because that's what we work towards."
Her favorite teacher to learn from here at Greenwood is Mrs. Murphy because, "She is a really good teacher, the way she teaches is very clear, it's very specific, the class is always a good pace and she makes sure that everyone is learning."
Her greatest accomplishment at Greenwood has been reciting The Creed for FFA Club. The Creed is a speech that explains what the members and officers of FFA believe in. There is a competition that the members and officers can participate in. In fact, Shwe participated and won first place last year. Her journey with FFA has not always been easy. In fact, her freshman year she didn't expect to like FFA at all. "I wasn't shy but it was my first time I stepped into the Ag. class. I never thought I was going to do anything with it; I thought it was just like I was gonna go and then switch out. But I got involved with The Creed and I feel like that's what made the spark."
She said that the person who has helped her the most along the way to her Senior year is Mr. Ronald Tipton. "Tipton because he always pushes me to do the best and I feel like he's always there for me; he's just like my dad at school, I love him."
Shwe Win is an inspiration that whatever you want to achieve, as long as you have determination and just a little bit of help, you can do whatever you put your mind to!