Behind the Scenes of Prom
Hang on for a minute...we're trying to find some more stories you might like.
Greenwood's 2018 prom, Young and Beautiful, happened on Saturday night, May 5th. Thanks to Greenwood's wonderful Prom Committee, everything ran smoothly and it was a beautiful venue. But behind those decorations and preparations are hardworking students and teachers who did their best to create a perfect prom.
After the previous prom sponsor, Mrs. Kessler, moved to Montana there was a demand for a teacher to volunteer to do Prom Committee this year. Spanish teacher Mrs. Terry volunteered and then sent out applications for juniors and seniors to apply to be on Prom Committee. Around 20 students were chosen, with one boy in the group, unlike the past few years where there were smaller groups. Mrs. Terry had never organized a prom before. "I wanted to make it a special night for everybody," she said.
The first obstacle to conquer after selecting the Prom Committee was deciding the theme. While a night theme, an enchanted garden, and fairy tale were all suggested many suggested a Great Gatsby prom. That ended up winning by a landslide. After selecting that the main color scheme has to be selected in which they would center all the decorations around.  Gold and black were chosen to be based on the opening credits of the movie The Great Gatsby. In the decorations, there were accents of red and white along with gold and black, such as red records or white pearls used as decorations.
After the outline of the decorations was laid out, the budget had to be discussed on what to be spent on. Prom Committee opted for no invitations or actual tickets this year to save money and instead bought favors that were keychains where pictures could be inserted and one side had the prom name and decoration. Prom Committee also opted to buy a set of Gatsby-themed cutouts that included two cars, a mansion, and a pair of gates. The other set of cutouts set out of the jazz band were created by members of Prom Committee. The food was decided after much debate of what to include so that everyone attending prom could eat something. How to market prom was also decided and when ticket sales should be. What was spent on this year has not been counted up yet but it was under what was spent last year.
Two Prom Committee members created the different posters that were around the school and the huge one that hung in the front lobby. They were put up so students could see them when they came back from Spring Break and when tickets were on sale. Despite from being sold for 3 ½ weeks, many people tried to buy tickets the Thursday and Friday after tickets stopped selling. There were about 430 tickets sold for prom this year.
On Friday, May 4th, Mrs. Terry and Prom Committee went to the Carol Knicely Center to set up for prom. They started at 9 am and left around 7 pm. The jazz band cutouts had to be reinforced so they didn't break and Mrs. Leeper's father built wonderful stands for the cutouts. These had to be put together and decided where to stand and then tweaked to look their best. In the lobby, there was red felt hiding the wooden bases and red tulle to partially hide the stands. In the ballroom, to make sure they didn't blend in the black curtains there were rope lights pooled around the based and taped to the stands. The other cutouts had to be assembled, with a little bit of improvisation because not all the parts were sent. The mansion facade was huge and had to be taped together and then once placed in the right place there was the problem of it being seen. It was decided to position a spotlight in front of it, which also happened to the green car and the photo booth. The second car cutout was white with GHS Prom on the rim of one of the wheels and was positioned out in the lobby while the gates graced the entrance to the actual ballroom. Charlee Austin's mom volunteered to help and was a great help when people ran out of supplies or needed help. While working on the rope lights that lined the entrance to the ballroom, they ran out of tape and Mrs. Austin ran to Walmart to get it and the school to get flowers to hide spotlights. Red and mini records were hung along the back wall to add decoration while the table pieces were made of spray painted wine bottles or glass vases with candles.
The chandelier that hung over the dance floor took the longest to assemble and put up. By the time that it was being attached to the ceiling, almost everything was finished. None of the students were allowed in the scissor lift so two Carol Knicely Center workers set about to constructing the chandelier. It took them about two hours to hang everything and put the scissor lift back, after which everything was straightened up and made sure nothing was out of place.
In any large group of people who are stressing out over something large like prom, many people got irritated with each other. Some argued over how to decorate certain tables and others just took down or redid things without ever asking for permission to do so. Mrs. Terry had to intervene on many occasion and didn't want a lot of changes to the original plan that was made. "Trying to keep everyone happy [was difficult]," Mrs. Terry said about prom. Even though everyone was tired of each other and tired of setting up, it was done in a decent amount of time, about 10 hours, and everyone had a good time Saturday night. Prom Committee encourages anyone who can devote the time and hard work to making prom special to sign up for Prom Committee next year. Mrs. Terry is pretty sure she will be doing prom again next year.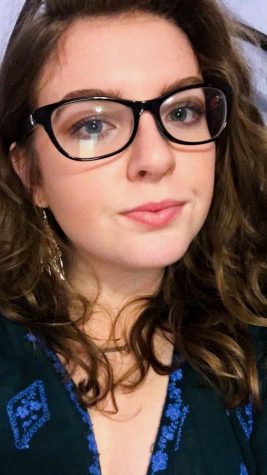 Anna Scifres, Reporter
Hello, I am Anna Scifres and I'm a senior at Greenwood High School. I will be covering the Arts and Entertainment section but will also branch out to...