Greenwood Cheer Team Hosting Tryouts Soon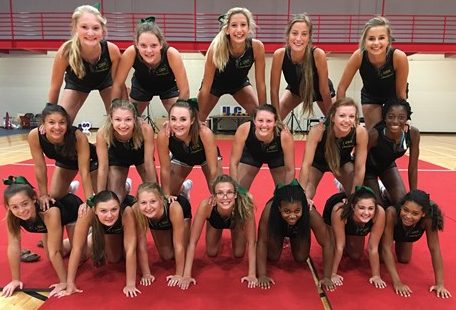 Greenwood cheerleading will be hosting tryouts Friday, April 20, starting at 3 p.m. They will have mandatory open gyms Wednesday (4/18) and Thursday (4/19), both days will start at 3:00 and end at 4:30.
The open gym days will be vital for girls who want to try out for the team. During these two days, the girls will be assigned a stunt group, taught a dance, and a cheer. The girls will also stretch, work on jumps, and tumble.
During the tryouts, you will be asked to do your best tumbling pass, do a stunt with your assigned stunt group, jumps, and perform the dance and cheer you were taught. When you try out, you must be wearing black shorts and a solid white shirt.
The things you will be judged on will be overall appearance, attitude/excitement, cheer, dance,  stunts, jumps, running, and standing tumbling.
You will first meet in the gym to warm up and then they will take you to the gym to wait for your group's turn. The group will be no bigger than four people and the people who are in your group will consist of who is in your assigned stunt group.
The results of who made the team will be posted on the cafeteria door at 6:30, the same day as tryouts. To receive more information on what you will need to try out go to Mrs. Shoemake's room (157), to receive a form with all the needed information inside.