Harlem Globetrotter Visiting The Swamp
Hang on for a minute...we're trying to find some more stories you might like.
Recently, current Globetrotter Orlando Melendez visited Greenwood High and talked to a few selected students about his life, how he became a Harlem Globetrotter, and talked to students about their future. He also displayed his basketball tricks and took many pictures with the students.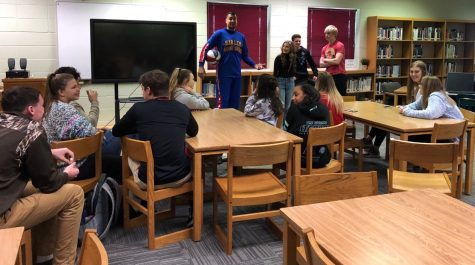 Greenwood was rewarded with a visit from Melendez for receiving the highest percentage of students obtaining the Dual Credit Scholarship in our district. The Kentucky Lottery provided all of the funds for this scholarship and arranged the visit with the students who received the honor.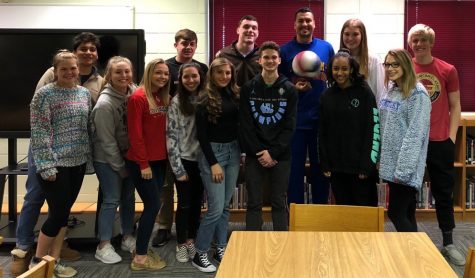 Tatum Tinsley, Madison Vargas, Mekayla Steward, Carrli Haynes, Kirsten Merritt, Tabi Willgruber, Rachael Harrell, Shelby Mayfield, Joseph McNabb, Corinne Mobley, Angello Alfaro, Blake Barker, Sam Carini, and Michael Hathaway were honored with the Globetrotter for receiving this scholarship. Melendez talked to the students about how he became a Harlem Globetrotter and chose three students to learn a mini-Globetrotter routine.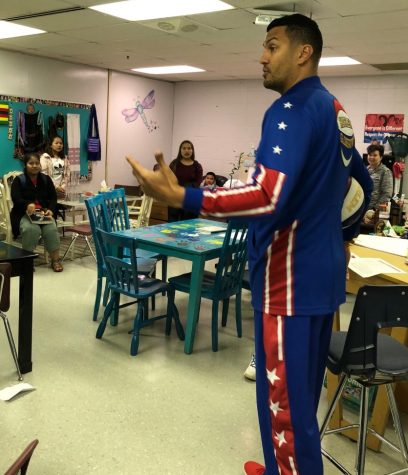 "He talked about overcoming obstacles in his life to achieve his dreams and that hard work and perseverance will always pay off," said guidance counselor Mrs. Board.
Greenwood senior Carrli Haynes talked to Melendez, and he expressed how he has never hugged a taller woman. He continued to ask about her height, which is 6"4, and her former sports career.
"He noticed me slumping over and not standing straight up, and he grabbed my shoulders, pulled them back, and said "Stand up straight and tall. Tall girls are appreciated too." said Haynes.