Murphy, Morrison Headline 'Millie'
Hang on for a minute...we're trying to find some more stories you might like.
Everybody knows there is no business like showbiz, and Abby Murphy and Ben Morrison know all about that!
At a young age of nine, Abby Murphy got the part in her first play as Alice Wendleken in "The Best Christmas Pageant Ever." Here would be the start of countless hours and many long and tiring days in her acting career.
Murphy says, "I always wanted to do plays for my drama, guitar for my singing, and gymnastics for athletics, but I found a love for acting."
On the other side, senior Ben Morrison started at age 12. His inspiration for the start came from his siblings. "I wanted to start musicals because my brother and sister both did it in high school and I always enjoyed going to see them." His first acting role was ensemble in "Fiddler on the Roof." But he first realized he liked to act when he was cast in his first big role as Michael Banks in "Mary Poppins" two years ago.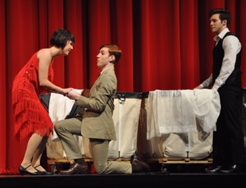 Murphy and Morrison were cast as the two leading roles in this year's spring musical, "Thoroughly Modern Millie." The two will be performing the parts of Millie Dillmount and Jimmy Smith in this 1922 production.
The two have done multiple interviews throughout their career, but the latest one for Greenwood's spring musical at WBKO can be viewed at the link here.
Morrison says in looks to this upcoming musical performance, "I'm most looking forward to the audience to see the big dance numbers because we have all worked so hard on them." and for Murphy, she says, "I'm most looking forward to everyone to see my head look like a mushroom."
Together they have performed in countless plays and musicals. Both hope to continue their career in the future, so this will not be the last you hear of these two extraordinary actors. 
Come out and show your support to the cast of the 2018 spring musical this weekend at Van Meter Hall.