NBA ROTY: Ben Simmons or Donovan Mitchell?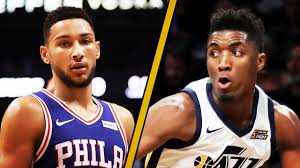 With the second round of the NBA playoffs underway, eight teams remain. Two of the remaining teams are the Utah Jazz and the Philadelphia 76ers, intensifying one of the NBA's biggest questions: Donovan Mitchell or Ben Simmons? Both players had terrific regular seasons and only seem to be getting better, being huge stars for their respective teams, thriving in basketball's biggest stage and leading their teams to the conference semifinals.
Who has the brighter future?
Personally, this is the hardest question to answer. Ben Simmons has already suffered nagging injuries and has yet to develop anything close to an effective jumper. But he is looking like an all-around monster, attacking the basket at will dishing out dimes, playing aggressive defense, and crashing the boards like only a few special players are capable of. He can play and guard just about any position, and possesses the skill set necessary to excel at just about all of them as well. If Ben Simmons can develop the oh so important jump shot, (it doesn't have to be elite, just capable like a guy like Giannis)I really don't see anything separating him from none other than Lebron James.
Donovan Mitchell has few flaws in his game. He just took home the dunk contest, can create his own shots at will, is a decent passer, and has shown flashes of being a lockdown perimeter defender. Give him a few more years of development and I promise he will be putting up 25+ nightly.
Taking this into consideration, I would still have to go with Simmons in the long run. There is simply no justification to bet against a guy averaging 16-8-8 in his rookie season. With that being said, I still think Mitchell has potential to be a top 10 player in the league one day. I just think Ben Simmons has a chance to transform into a legend.
Simmons 1-0 Mitchell
Who is the better scorer?
At the end of the day, basketball comes down to one thing: putting the ball in the basket. What do Paul Pierce, Bobby Jones, Jason Williams, Andre Roberson, Reggie Miller, and Steve Nash have in common? Well, they're really only considered elite in one of three major categories of passing, scoring, and defending. I am certain you know about Paul Pierce and Reggie Miller than the rest. Scoring is what matters in basketball. Even if you aren't excellent in other areas of the game, if you can score, you are simply better than those who can't. With that being said, we have an interesting match-up here.
Ben Simmons has shown the ability to attack the basket and position himself for easy points at will, bouncing off defenders and creating space without much effort. But other than that, he really can't do much. He is shooting a lackluster 56 percent from the free throw line and has yet to hit a 3 pointer in his 61 NBA games. He doesn't create his own shots because he knows that he will just be wasting his energy.
Donovan Mitchell has done it all. He is showing the explosiveness of a guy like Dwayne Wade and has an exceptional ability to create shots off the dribble. His 34 percent three-point percentage might not seem that impressive, but just remember Kobe only shot 33 percent from deep in his career. Both have very similar play styles. He's very reliable from mid-range and shooting a proficient 81 percent from the free throw line. And he can do things like this.
I think it's clear who wins here. Donovan Mitchell has the potential to turn into an offensive juggernaut.
Simmons 1-1 Mitchell
Who is better right now?
If I had to pick one to lead a team currently in the midst of the playoffs, I would have to pick Ben Simmons. He seems to have the rare leadership trait that few players before him have: he has elevated the 76ers play as a team. For many of the same reasons stated above, I just like Simmons because of his overall game.
That's not to hate on Donovan Mitchell. The guy is special, and will be for many years. But overall, I'd say that Ben Simmons has been better this year and deserves Rookie of the year.
Simmons 2-1 Mitchell
I prefer Simmons over Mitchell, but I'd say both become future stars (if they aren't already) .  Both players have through the roof potential and should be exciting to watch over the next several years.
So, who do you think deserves Rookie of the year and is going to be better in the future? Would you rather have a team leader or a top scorer? You truly can't go wrong with either pick.