17 killed, 15 injured in Parkland, Florida shooting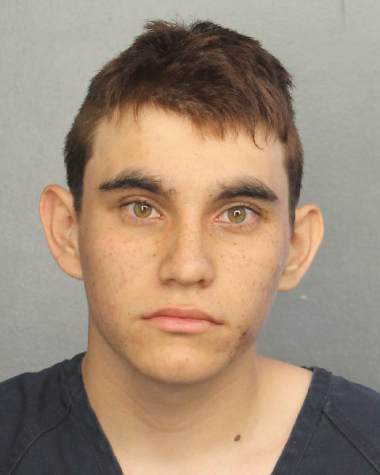 On Wednesday, February 14, Nikolas Cruz barged into Marjory Stoneman Douglas High School in Parkland, Florida with the intent to kill.
This shooting is the 18th incident to have happened in a year that's not even two months old. Fourteen students, two coaches, and one teacher were killed with a semiautomatic rifle. Other victims are still being treated at nearby hospitals.
Nikolas Cruz, who is a former student of the high school, had been expelled for disciplinary reasons. According to Broward County Public Schools Superintendent Robert Runcie, he had been transferred to another school in the county because of "issues that arose."
According to the Anti-Defamation League, he also had ties to white supremacists. He hurled slurs at blacks and Muslims and group chat messages showed that he was obsessed with race.
The family that Cruz had been living with saw no worrying signs, but apparently others did. A former classmate said Cruz had shown him guns, and other students say they worried he was violent. He also suffered from depression.
Broward County Mayor Beam Furr said Cruz "had been dealing with mental health issues."
"He had been undergoing some treatment. We can't go into detail on that," Furr said. "I don't know if he was exactly on law enforcement's radar, but it wasn't like there wasn't concern for him. He had not been back to the clinic for over a year, so there's been a time where he was receiving treatment and then stopped."
At school, Cruz would keep to himself but "once given the opportunity, he liked to talk," said Brandon Minoff, a senior who was assigned to a group project with Cruz during sophomore year.
"He always just seemed very quiet and strange," Minoff said.
The FBI had been warned in September of a possible school shooting threat from a Youtube user with the same name as the school shooter.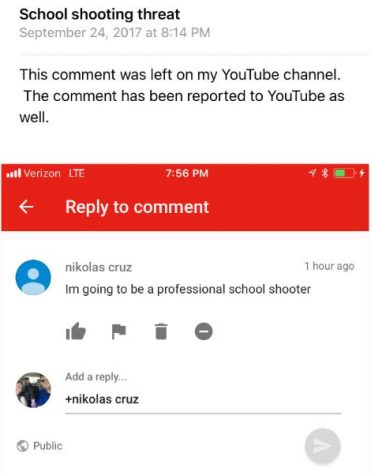 Ben Bennight, a 36-year-old Youtube blogger from Mississippi, noticed in September an alarming comment on a video he'd posted.
"I'm going to be a professional school shooter," read the comment. It was from a user with the name Nikolas Cruz, which is the same name as the shooter of Marjory Stoneman Douglas High School.
The FBI did not share the information with local law enforcement, an official said.
The FBI special agent in charge of the Miami division, Robert Lasky, confirmed that the bureau received a tip last year about the comment.
"No other information was included with that comment which would indicate a time, location, or the true identity of the person who made the comment," Lasky said during a news conference. "The FBI conducted database reviews, checks but was unable to further identify the person who actually made the comment."
Women's March organizers are encouraging students, teachers, and their allies to walk out of schools on March 14 to protest gun violence.
They're doing this in hopes that Congress may take legislative action on gun control. The recent shooting at Marjory Stoneman Douglas high school was the last straw. They want change and they want it now.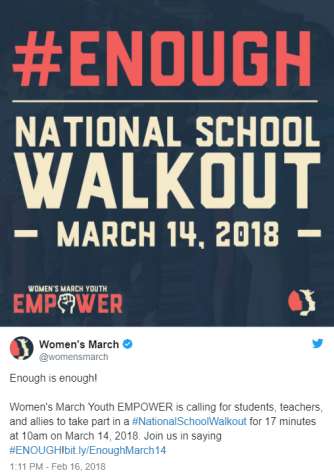 "Students and staff have the right to teach and learn in an environment free from the worry of being gunned down in their classrooms or on their way home from school," reads the group's statement. "Parents have the right to send their kids to school in the mornings and see them home alive at the end of the day."
The event calls for students and teachers to walk out of their schools at 10 a.m. local time for 17 minutes, to honor the 17 lives lost in Florida.
Another walk out takes place on April 20, marking the 19th year since the Columbine High School massacre that left 13 dead.
Mr. Wix wants all students to know that the administrators have been doing everything in their power to help prevent a shooting like this from occurring at our own school. They have been checking the exterior doors hourly, to make sure that no one could simply just walk in. They have been attending conferences and meetings to discuss plans if there was ever a shooting.
He wants everyone to know that if there is ever a shooting at Greenwood, your best chance at survival is to flee–flee at the first chance you get.
He also mentioned that he had planned to do an unannounced fire drill on February 15, but decided not to due to the circumstances in Florida.