Greenwood Students Apply to Gatton Academy

The Carol Martin Gatton Academy of Mathematics and Science is a residential program where 95 sophomores across Kentucky are selected to continue their high school education at a more high-minded level. This is a very prestigious academy located at Western Kentucky University where the attendees take college courses, study abroad, and do faculty-led research.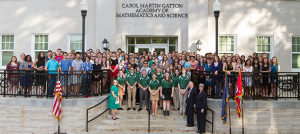 Being accepted into this institution can set you far ahead in your college career. At the end of the two years, students will have completed high school and attain 60 to 72 hours of college credits. This experience gives students the chance to interact with other scholars of the same intellectual level and be challenged more than they would normally be.
The requirements to be enrolled consist of:
be a current domiciled resident of the state of Kentucky as stated by the Kentucky Council of Postsecondary Education,

be a sophomore or have achieved sophomore status (as stated by their sending school) at the time of application (February 1),

be a junior (as stated by their sending school) at the time of enrollment to The Gatton Academy (August 1 of the same application year),

complete Geometry and Algebra II prior to enrollment,

score a minimum 22 math on the ACT or score a minimum 520 math on the SAT, and

submit all required materials no later than February 1, 2018
https://www.wku.edu/academy/admissions/requirements.php
Some of Greenwood High Schools own students from Class of 2020 are applying to be a part of this program. These students are Caitlin Cook, Owen Mefford, and Noah Jacobs.
Cook said of the opportunity, "I just really like math and science. I'm really interested in math and I want to take the interesting courses at Western." Cook also said, "I know I would learn a lot if I went. I would get to take challenging courses and there would also be a good social aspect that would be rewarding."
The application process is a rigorous one, Cook said. "You have to do three open-ended essays, one short answer, submit ACT or SAT scores, and the traditional letters of recommendation."
Students will be notified if they made it to the interview stage in mid-February and the final decision will be made in early March.
Greenwood has sent a handful of students to Gatton Academy these past years. These alumni include: Jack Wassom (2015), Saadia Akhtar (2016), Sydney Wheeler (2018), Jack Marquardt, Meigan Niu, Ben Kash and Meghan Perez (2017).
Good luck to all of our Gators in their process of getting accepted into Gatton Academy!