Nearby Fatal School Shooting
Hang on for a minute...we're trying to find some more stories you might like.
Early Tuesday morning at Marshall County High School, located in southwestern Kentucky, many people's nightmares became a reality. A 15-year-old boy open fired upon his classmates. Twenty people were affected by the shooting, 14 of whom were shot, four were injured on the scene, and two died. All victims ages ranged from 14-18 years.   
Many people in the community were devastated but all were surprised when they saw the chaos. Outside of the school students were running out and down the roads. Inside, there were students overwhelmed with fear crying, running and screaming.
Kentucky state police commissioner, Richard W. Sanders, claimed Police were seen taking the teenager out in handcuffs.
It all started at 7:57 a.m. when the boy came into the school. A few moments later bullets were coming from the handgun he had brought in with him. Two minutes later was when the first 911 call came in. Seven minutes later, the police arrived on the scene, according to Sanders.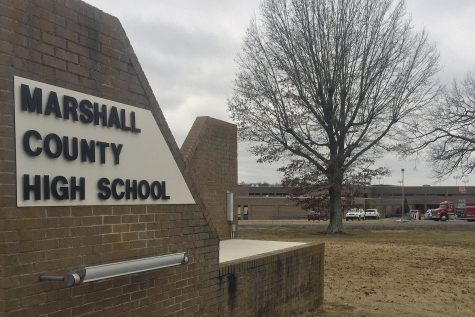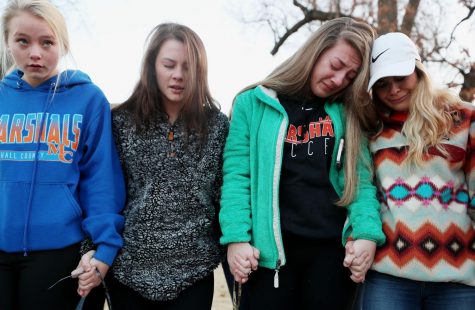 The superintendent, Trent Lovett, sent out an announcement to the community. You can view this statement below: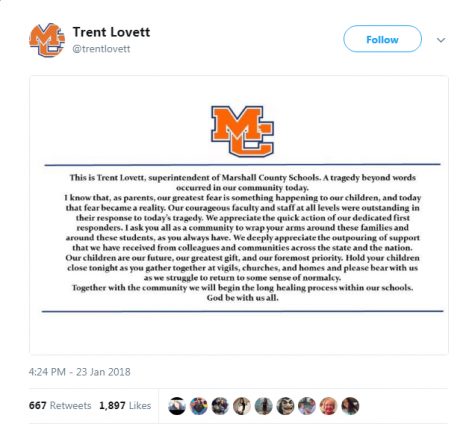 In an interview with CBS News,  16-year-old Lexie Waymon told about her experience as she was gathered in the common area.
"I blacked out. I couldn't move. I got up and I tried to run, but I fell. I heard someone hit the ground. It was so close to me. I just heard it and then I just, everything was black for a good minute. Like, I could not see anything. I just froze and did not know what to do. Then I got up and I ran."
Wednesday officials said this 15-year-old boy will be tried as an adult and will be charged with two counts of murder and 12 counts of assault in the first degree.
This tragedy has hit the whole nation hard and many people are showing their respects for the affected families. For instance, Warren County sent two grief counselors to help anyone who needs it.
It's even getting acknowledge by world leaders such as President Donald Trump and Canada's Prime Minister, who sent their condolences to Governor Matt Bevin.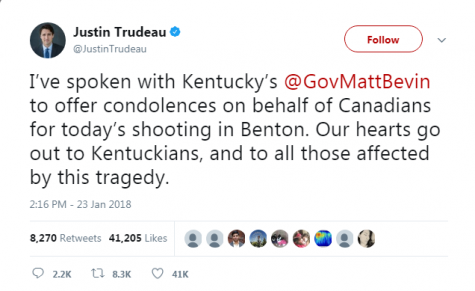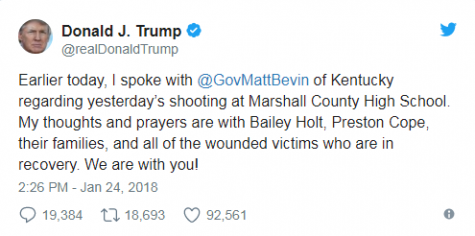 Marshall County High School is closed until later notice. However, the elementary schools have opened the Thursday following the Tuesday shooting. Parents are allowed to attend school with their child.  
In our own school we can do many things. First, we can prepare. Lockdown drills are an important drill that will get you ready if this type of situation was to happen. Also, at the upcoming homecoming basketball game, you can show your support by wearing an orange bandana.