Greenwood Says Good-Bye to Mr. Morrison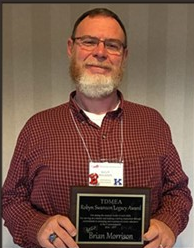 Hang on for a minute...we're trying to find some more stories you might like.
Mr. Morrison has been teaching band at Greenwood and the feeder elementary schools since Greenwood opened in 1990. With the end of the school year coming, Mr. Morrison has announced that he is retiring when the school year ends. Mr. Morrison has decided to retire due to his hearing getting worse; he is trying his best to preserve it for use later in life. All students and staff are sad to see Mr. Morrison go, saying that it will affect the band program greatly.
Mr. Morrison has been a very influential part of the Greenwood High School Band program. Claire Trudelle, a bass clarinetist, said that Mr. Morrison helped her to transition from not knowing anyone in band to knowing everyone. Mr. Collar is going to miss the great personality that Mr. Morrison brought to the band program, a personality that cannot be matched. Mr. Morrison has also helped other students find a new love of music, like Thea Mahmutovic, a trumpeter, who "had a whole new feeling of music created thanks to Mr. Morrison and his teaching methods." Thea said that she has found something she loved through Mr. Morrison and by joining marching band. Mr. Morrison has really changed the high school experience for many band students, many will never forget what he has taught them in both band knowledge and real life knowledge.
Mr. Morrison's retirement comes as a bittersweet goodbye, he has done so much for the band program, but he also deserves a well earned break. He is looking forward to less stress, no schedule, and getting more time to work on composing and arranging music, as well as traveling.  
Ava Perrea, a bassoonist, says that Mr. Morrison has been a huge role model to her throughout her high school career. She says that Mr. Morrison has "always encouraged the band students to be themselves and be the best they can be."
Mr.Collar, the assistant band director, said that he will miss Mr. Morrison's personality, and he'll miss a good friend who taught him a lot about being a successful teacher and role model for the students.
Mr. Morrison has been an influential leader and huge blessing for the band program for the many years he has been teaching. He has shown Mr. Collar that the band room is a "home for all students and that even though no two kids are alike, each kid is important in the big picture of the band." Greenwood High School will deeply miss the blessing that is Mr. Morrison, but will take comfort in knowing that he will always come back and be a supporter of the band program. "Goodbye. Go have a good retirement!" These are the parting words to Mr. Morrison from freshman trumpeter Isaac Raymer.