NBA Playoffs Conference finals update and predictions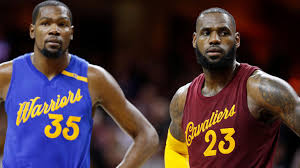 The NBA finals are nearing us. Like many predicted, the Golden State Warriors and Cleveland Cavaliers bullied their ways to the conference finals, sweeping the first two rounds and the Warriors put together an enormous 25 point lead in game 1 against the San Antonio Spurs. With Kawhi Leonard again being injured and out for game 2 after a controversial injury caused by Zaza Pachulia, the Spurs are in a tough position. The Boston Celtics just closed out the Washington Wizards after a hard fought 7 game series to face the Cavs.
Golden State Warriors vs San Antonio Spurs
Honestly, I didn't think Kawhi's injury was at all intentional by Zaza Pachulia. Kawhi even said himself it was just basketball, as Zaza's momentum seemed to carry him, it didn't look intentional at all, and Kawhi was already beat up from the previous series.  But that controversy shouldn't matter anymore. Unfortunately, we lost possibly the best player left of the four teams.  Immediately after Kawhi left, the Warriors went on an 18-0 run the narrow the 23 point lead the Spurs had in the second half into 5. They continued to rally and won the opening game 113-111 after an amazing comeback lead by amazing performances from superstars Stephen Curry (40 points)  and Kevin Durant (34 points). If I was the Warriors, I would be concerned by Klay Thompson's pathetic effort (6 points and 18 percent shooting) but also be praying for Kawhi to be out for a while. The Spurs were plain scary and Kawhi was clicking. Right now, LaMarcus Aldridge has to carry the load as a superstar and the Spurs will need somebody else to step up. I like the Warriors in 5, but if Kawhi comes back and looks 100 percent in game 3 (very unlikely to happen) I would say Warriors in 7. With how crazy and uncertain this series is for now, I do think the Spurs have a decent chance to advance, but it's going to take a healthy Kawhi and other variables to actually happen.
Cleveland Cavaliers vs Boston Celtics
The leastern conference has been even less this year. The Cavs, much like the Warriors, have bullied through much weaker teams and are facing their first true "test". Still, with Lebron and Kyrie running the show, I think they will roll over another weaker opponent. Isaiah Thomas might have something to say about that, though. When Al Horford plays like a real center and Avery Bradley is on his game, the Celtics are definetly at least threats here. I say the Cavs defend home court twice, but lose game 3. However, I don't see them having more than one off game. The Cavs finally lose a game, but not really.
Warriors vs Cavs
For the first time in NBA history, the same teams are likely to meet three years in a row. Lebron will face a team specifically designed to beat him. With the addition of Kevin Durant, this matchup will be much different. Kyrie and Kevin Love will need to bring their A game in order to match the pure star power of the Warriors. Much like last year, I think the Warriors come out firing in the first two games, and take both as Kevin Durant shows why the Warriors let crucial bench pieces go for him. However, the Cavs answer sharply by defending their home court in games 3 and 4, with some more monster performances from King James. Going back to Oracle for game 5, the Warriors ball out and retake the 3-2 lead. Much like last year, it will come down to the Warriors being able to close the deal. However, this year I think they obviously have an advantage with Durant and go into Cleveland and win their 2nd title in the last 3 years after a hungry, all around team performance. Finally, Durant gets his ring, and the media gets salty and says his ring "doesn't count and he should've been loyal, you could've done this with Russ". But ultimately, the Warriors get their crown back.