Logic- "Everybody" Album Review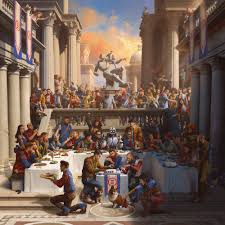 Robert Bryson Hall II, more commonly known by the name Logic, is a 27 year old rapper from Gaithersburg, Maryland. With many critics praising his rapping ability but criticizing his ability to develop his own style, "Everybody" marked the third studio album on Logic's discography. Logic has also dropped 5 mixtapes including the popular 2016 "Bobby Tarantino" one. "Everybody" focuses on equality for everybody, regardless of race, sexuality, beliefs, etc. Most of Logic's ideas stem from a childhood in which his father abandoned him from birth, and his mother was in and out of jail with various drug addictions. The album pinpoints Logic's inability to fit in as either African American or Caucasian.
Tracks and Ratings
Hallelujah 8/10- Logic opens the album with some nice melodic vocals and  production. A skit at the end appears,  adding to the solid opening track.
Everybody 7/10- Here's where the album starts to get preachy and a little corny. The production is very nice, but I just didn't enjoy the track overall. Logic repeatedly describes the "I'm white, I'm black" theme.
Confess 9/10- One of my favorite tracks on the album, some perfect vocals combined with nice production paves the way for Logic's rapping. I actually enjoyed Killer Mike's preachy verse, because it almost seemed like he was crying. He expressed the doubts he had in God, things lots of Christians are afraid to do.
Killing Spree 7/10- A true "banger", Logic raps over a mean trap beat. While I enjoyed the general sound of the track and the quotable line "Everybody looking at the meaning of life through a cell phone screen" I felt like the hook was poorly sung and Logic could've done better lyrically.
Take it Back 4/10- One of the worst tracks on the album in my opinion also happens to have one of the sickest beats. I felt like Logic could've ripped this track if he really wanted to. His flow is pretty wack for a rapper as talented as him, and his vocals get annoying. Again, the African American and Caucasian themes get repetitive and at this point in the album he still hadn't looked past this theme, not really even acknowledging the fact that black and white aren't the only two races.
America 10/10- Probably my favorite track, Logic and all of the features (Black Thought, Chuck D, Big Lenbo and No I.D.) slaughter this track. Logic gets political for the first time in his career and becomes the latest rapper of many to call out Trump. He also disses Kanye (sort of) saying "Your music is 20/20 but them political views is blurred" considering Kanyes support of Trump, something few African Americans have done. I liked Black Thought's verse and the vocals on the track as well.
Ink Blot 3/10- The worst track on the album on my opinion, the track goes completely off topic, Logic fails to say anything meaningful lyrically, and Juicy J's feature is just awful and filled with corny lines.
Mos Definietly 6/10- I would enjoy this track if "All races are beautiful" had not already been said so many times. Logic flows nice on some decent production, but his verses are again corny and preachy. While the album is titled "Everybody" at this point in the album he has still only described the black and white theme.
Waiting Room (Skit) N/A- I'm not gonna rate this because it was a skit, (a long 4 minute one) but I felt like it was a very good one. Logic takes a dead African American male (the one that died in the opening track) and wants to reincarnate him into a rich Caucasian male with slaves in 1738. He also paints a picture where everybody is the same- when you hurt someone you are really hurting… yourself. He's saying that you are basically everyone- just in another form. Everyone is each other just different in personality and appearance. I thought this  message and skit as a whole was pretty deep. I don't usually like skits, but this was much more meaningful and relevant to the album than most others are.
1-800-273-8255   9/10- Here, Logic finally gets past the race theme and takes the form of a depressed guy (possibly himself) calling the suicide hotline. Finally, he makes the album more expansive so more people can relate. The first verse describes the life of a suicidal male, the second verse features Alessia Cara singing as the hotline operator, trying to give Logic reasons to live. With near perfect vocals, Logic goes from "I just want to die today" to "I don't even wanna die anymore". This describes how a lot of suicidal and depressed people just want someone to talk to and express their feelings to. He also sings the hook in a kind of energetic and happier voice, explaining how when a person commits suicide those who knew them often say "they seemed so happy". I love this track. The only thing I didn't like is how he got over depression just like that, kind of contradicting himself on the issue.
Anziety 9/10- Logic gives a nice prospective into some more issues, and describes how he had to be rushed to the hospital because of a panic attack. Like a lot of anxiety suffers, he says "Nah, it can't be anxiety" surprised by how derailing and damaging anxiety can be physically. Lucy Rose provides some perfect vocals. This track would be a 10/10, but Logic gives a speech for the second half of the track. Rapping is basically talking in rhythm, so why not rap the second part? Still, it was a very solid track.
Black Spiderman 5/10- Nice when dropped as a single, Logic again preaches the African American and Caucasian theme. The lyrics are kind of corny and the last 3 minutes don't have any rapping. Logic flows nice but overall I would say this song flopped.
AfricAryan 9/10- I don't wanna get too deep into this track, because if you haven't already heard it this will be a major spoiler.
Overall Album rating 6.5/10- As a Logic fan, I tried to be as unbiased as possible. I felt like the album could've been much better, but liked the overall message and sound. With strong potential and only one album remaining (according to the skit at the end of AfricAryan) I feel like Logic will never truly, fully utilize his insane rapping skills, as  his albums and mixtapes excluding "Under Pressure" have just been mediocre.
In Conclusion
-Logic disses Kanyes political views, as Logic says Yeezus contradicted himself by bashing Bush but supporting Trump.
-Logic digs into the African American- Caucasian issue, as he was born mixed and didn't fit into either, perhaps a little too much.
-A surprise, hidden feature from a well known rapper on the last track "AfricAryan" shocked the hip hop world. It was possibly my favorite verse on the album.
-Logic says his next album will be his last on AfricAryan
-An ongoing skit between an African American male and a guy posing as god is apparent throughout the album.
-The production and Logic's flow (although it gets repetitive) are nearly flawless.
-The album's main message is be who you are, and everyone is equal regardless of race, sexuality, religion, etc.
-First week predictions say it will debut at number 1 on Billboard 200  if initial projections stay correct.