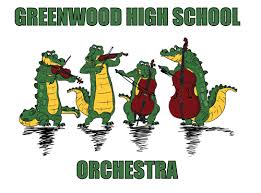 On May 3rd, I had the pleasure of attending the orchestra concert that took place in the auditorium. I stayed after school that day and I got the chance to witness the orchestra students help out 5th and 6th graders from the surrounding elementary schools–Alvaton, Briarwood, Cumberland Trace, and Natcher—with tuning their instruments.
Then after an hour or so of this, the students took the stage–starting with the 5th Grade Program. They played four different songs called Walking Song, Morning Dance, Rolling Along, and Seminole Chant. My personal favorite was Rolling Along. Once the songs were over, Mrs. Stuppy, the Orchestra Director, gave out awards such as "Most Improved Since the Beginning" and more.
It was the 6th Grade Program after that. They also played four songs–Tribal Lament, Pepperoni Pizza, Hot Cross Buns, and Ode to Joy. My favorite was the song Pepperoni Pizza, which was a song that sounded like someone saying the words "Pepperoni Pizza" over and over. They were also given awards.
Then, it was the Drakes Creek Program where they played three songs–Pirates of the Caribbean, Themes from Harry Potter, and Night Shift. My favorite from their program is the Pirates of the Carribean song. It was definitely well played. Stuppy gave them their awards and then it was onto the next group.
The final group was our very own Greenwood students. They played the Game of Thrones theme song, Falling Slowly, and Seven Nation Army. My absolute favorite was Seven Nation Army. The students seem to get into the song and it was nicely played.
All in all, the concert was very good and I would recommend attending one of their concerts in the future.