'Red Queen' Thrills Readers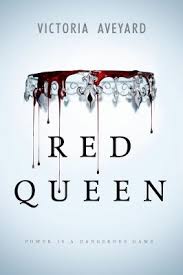 Hang on for a minute...we're trying to find some more stories you might like.
The Red Queen is a young adult fiction book written by Victoria Aveyard. This book was published on February 1, 2015, and is very popular among readers. Following The Red Queen, comes The Glass Sword and The King's Cage.
This book is about a world split between blood: red and silver. The reds are normal people like you and I. However, the silvers have special abilities, which they're born with, and are treated more like royalty.
In this book, a red girl, Mare Barrow, is living a life where at the age of 18 they are conscripted to the army to fight in war. Mare lives with her mother, father and sister, Gisa. She also has three brothers, Shade, Tramy and Bree; however ,they've already been conscripted.
When Mare's best friend, Kilorn Warren, is about to be conscripted, she tries everything not to let him go. She meets with Farley, who is secretly a part of the Scarlet Guard. However, one day she gets pulled from her house by silvers and gets taken to the kingdom.
She finds that she has a job serving silvers in the kingdom, but her day changes when she finds out she's not really who she thinks she is. In the book, Mare Barrow goes on a journey to discover who she really is. Along the way, she'll realize that she's fallen for a prince, makes friends with the people in the Scarlet Guard, and finds that "anyone can betray anyone."
I recommend this book for those who like adventure and excitement. I enjoyed this book and have found myself reading the rest of the series. I'd rate this book 9.5/10 because it made me want to continue reading.